Gli U2 tributano uno dei loro album più amati, The Joshua Tree. Il disco quest'anno compie 30 anni e in occasione di questo evento, la band irlandese ha deciso di tornare a suonare negli stadi, con un Tour mondiale dal titolo "U2: The Joshua Tree Tour 2017", in cui Bono & Co. suoneranno tutte le canzoni del loro celebre album (abbiamo parlato di questo argomento in un articolo precedente).
Ora è arrivata la notizia con cui si informa che la band non si limiterà solo al Tour, ma pubblicherà, il prossimo 2 giugno, anche una nuova edizione dell'album intitolata "The Joshua Tree 30th Anniversary".
Un'altra riedizione dello stesso album risale al 2007, una versione rimasterizzata contenente il CD con la tracklist del disco, più un CD bonus con delle facciate B e materiale raro tratto dalla registrazione dell'album, ed infine un DVD con le immagini del concerto all'Hippodrome de Vincennes di Parigi nel luglio del 1987.
Nella riedizione 2017 invece, in più c'è un CD con all'interno dei remix e un nuovo disco live, la registrazione del concerto al Madison Square Garden sempre del 1987.
"The Joshua Tree 30th Anniversary", che è già possibile preordinare, sarà disponibile in diversi formati: un'edizione contenente 2 CD, una con 4 CD e una con 7 LP-Vinile.
Nello specifico verranno pubblicate le seguenti versioni:

The Joshua Tree Deluxe 7LP & Record Bag: 164,95€
U2 The Joshua Tree 7LP Super Deluxe Box Set: 139,95€
U2 The Joshua Tree 4CD Super Deluxe Box Set: 89,95€
U2 The Joshua Tree 2CD Deluxe: 14,95€
The Joshua Tree Super Deluxe 7LP & T-shirt: 159,95€
The Joshua Tree Super Deluxe 4CD & T-shirt: 99,95€
The Joshua Tree Deluxe 2CD & T-shirt: 29,95€
U2 THE JOSHUA TREE 7LP SUPER DELUXE BOX SET
7 pieces of original, live and unreleased recordings on 12" 180gsm vinyl
3.5ore di contenuti audio / 49 tracce (25x unreleased tracks: 17x live, 7x nuovi mix, 1x archive track)
The Joshua Tree double album (gatefold)
The Joshua Tree Live at Madison Square Garden double album 1987 (gatefold)
The Joshua Tree Remixes
The Joshua Tree Outtakes
The Joshua Tree B-Sides
The Joshua Tree – Photographs by The Edge. An 84-page hardback book of personal never-before seen photography by The Edge, taken during the original Mojave Desert Joshua Tree shoot, 1986
A folio of 8 rare 12" Anton Corbijn colour prints
The Joshua Tree
Side 1
Where The Streets Have No Name
I Still Haven't Found What I'm Looking For
With Or Without YouSide 2
Bullet The Blue Sky
Running To Stand StillSide 3
Red Hill Mining Town
In God's Country
Trip Through Your WiresSide 4
One Tree Hill
Exit
Mothers Of The Disappeared
The Joshua Tree Live at Madison Square Garden 1987
Side 1
Where The Streets Have No Name
I Will Follow
Trip Through Your Wires
I Still Haven't Found What I'm Looking For
Side 2
MLK
Bullet The Blue Sky
Running To Stand Still
In God's Country
Sunday Bloody Sunday
Side 3
Exit
October
New Year's Day
Pride (In The Name Of Love)
Side 4
With Or Without You
Party Girl
I Still Haven't Found What I'm Looking For
"40"
The Joshua Tree Remixes, Outakes & B-Sides
Remixes Side 1
One Tree Hill (St Francis Hotel Remix)
Bullet The Blue Sky (Jacknife Lee Remix)
Running To Stand Still (Daniel Lanois Remix)
Remixes Side 2
Red Hill Mining Town (Steve Lillywhite 2017 Mix)
With Or Without You (Daniel Lanois Remix)
Where The Streets Have No Name (Flood Remix)
Outtakes Side 3
I Still Haven't Found What I'm Looking For (Lillywhite Alternative Mix '87)
One Tree Hill Reprise (Brian Eno 2017 Mix)
Silver and Gold (Sun City)
Beautiful Ghost/Introduction To Songs Of Experience
Outtakes Side 4
Wave Of Sorrow (Birdland)
Desert Of Our Love
Rise Up
Drunk Chicken/America
B-Sides Side 5
Luminous Times (Hold On To Love)
Walk To The Water
Spanish Eyes
B-Sides Side 6
Deep In The Heart
Silver And Gold
Sweetest Thing
Race Against Time
Data: 2 giugno 2017
Dimensioni: 320mm x 332mm x 75mm
Peso: 5000g
Prezzo: €139.95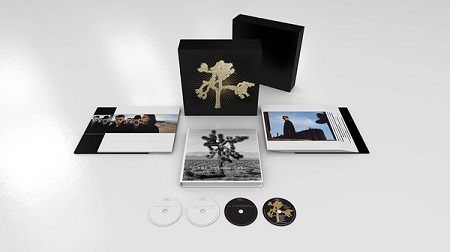 THE JOSHUA TREE SUPER DELUXE 4CD
4 CD's housed in a double gatefold 12" CD folio
3.5hrs of audio content / 49 tracks (25x unreleased tracks: 17x live, 7x new mixes, 1x archive track)
The Joshua Tree double album
The Joshua Tree Live at Madison Square Garden 1987
The Joshua Tree Remixes
The Joshua Tree B-Sides & Outtakes
The Joshua Tree – Photographs by The Edge. An 84-page hardback book of personal never-before seen photography by The Edge, taken during the original Mojave Desert Joshua Tree shoot, 1986
A folio of 8 rare 12" Anton Corbijn colour prints
CD 1 – The Joshua Tree double album
Where The Streets Have No Name
I Still Haven't Found What I'm Looking For
With Or Without You
Bullet The Blue Sky
Running To Stand Still
Red Hill Mining Town
In God's Country
Trip Through Your Wires
One Tree Hill
Exit
Mothers Of The Disappeared
CD2 – The Joshua Tree Live at Madison Square Garden 1987
Where The Streets Have No Name
I Will Follow
Trip Through Your Wires
I Still Haven't Found What I'm Looking For
MLK
Bullet The Blue Sky
Running To Stand Still
In God's Country
Sunday Bloody Sunday
Exit
October
New Year's Day
Pride (In The Name Of Love)
With Or Without You
Party Girl
I Still Haven't Found What I'm Looking For
"40"
CD3 – The Joshua Tree Remixes
One Tree Hill (St Francis Hotel Remix)
Bullet The Blue Sky (Jacknife Lee Remix)
Running To Stand Still (Daniel Lanois Remix)
Red Hill Mining Town (Steve Lillywhite 2017 Mix)
With Or Without You (Daniel Lanois Remix)
Where The Streets Have No Name (Flood Remix)
CD4 – The Joshua Tree B-Sides & Outtakes
Luminous Times (Hold On To Love)
Walk To The Water
Spanish Eyes
Deep In The Heart
Silver And Gold
Sweetest Thing
Race Against Time
I Still Haven't Found What I'm Looking For (Lillywhite Alternative Mix '87)
One Tree Hill Reprise (Brian Eno 2017 Mix)
Silver and Gold
Beautiful Ghost/Introduction To Songs Of Experience
Wave Of Sorrow (Birdland)
Desert Of Our Love
Rise Up
Drunk Chicken/AmericaData: 2 giugno 2017
Dimensioni: 320mm x 332mm x 50mm
Peso: 3000g
Prezzo: 89,95€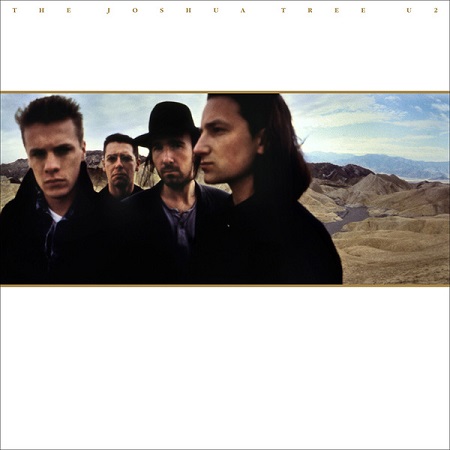 U2 THE JOSHUA TREE 2CD DELUXE
28 tracks / new artwork – colour version of original album
The Joshua Tree double album
The Joshua Tree Live at Madison Square Garden 1987
CD 1 – The Joshua Tree
Where The Streets Have No Name
I Still Haven't Found What I'm Looking For
With Or Without You
Bullet The Blue Sky
Running To Stand Still
Red Hill Mining Town
In God's Country
Trip Through Your Wire
One Tree Hill
Exit
Mothers Of The Disappeared
CD2 – The Joshua Tree Live at Madison Square Garden 1987
Where The Streets Have No Name
I Will Follow
Trip Through Your Wires
I Still Haven't Found What I'm Looking For
MLK
Bullet The Blue Sky
Running To Stand Still
In God's Country
Sunday Bloody Sunday
Exit
October
New Year's Day
Pride (In The Name Of Love)
With Or Without You
Party Girl
I Still Haven't Found What I'm Looking For
"40"Data: 2 giugno 2017
Facebook Comments